❇️ New-in
🔥 Product Launches
🚀 CI/CD Engine
👥 Multiple git credentials
At Brainboard, we've worked hard to take your experience with the Cloud to the next level, especially while managing Git credentials in teams.

We've enabled you to:
As an individual contributor, you can add personal git tokens for any supported git provider - Azure DevOps, Gitlab, Bitbucket - and specify the scope of the creds and have visibility on where they are used.
As the owner of the organization, you can add Github app integration and users perform git actions based on their authorization on Github.
What do you need to do:
The Git credentials of your organizations are assigned to the owner of the organization. So you need to add your personal token in order to do pull requests.
If you use GitHub, there is nothing to do. Your pull requests work as before.
Pull requests: Choose the git provider to use from the supported ones - Azure DevOps, Gitlab, Bitbucket, GitHub, and add the description, project, folder, and base branch within the service.
Modules: You can choose which git credentials you want to use to import your private modules and use them.
Generate your diagram from the terraform code: Choose the git credentials you want to use and import your existing terraform code.
Both categories, git apps and personal tokens, are available on the 'Account' configurations, here: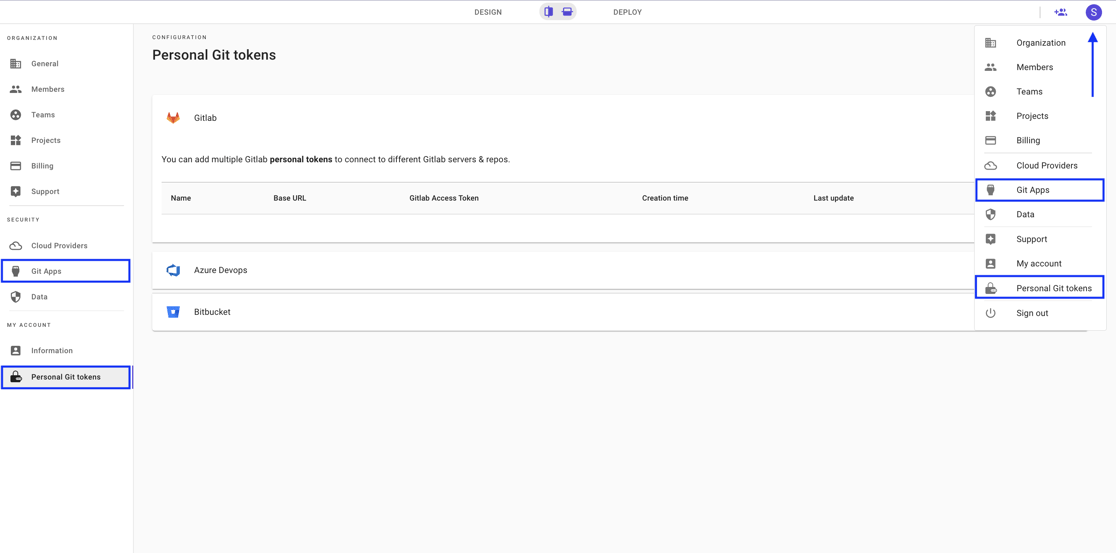 This new set-up capability enables the seamless performance of tasks without switching between accounts and re-authenticating accesses, and so work independently and well.